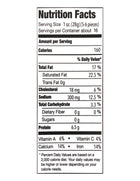 Description
Bite into this traditional Southern favorite Cheese Straw blended with a tiny kiss of Chipotle that will keep your taste buds coming back for more. Enjoy these items in a variety of sizes: 4 oz box, 8 oz box, 1 pound box, 6oz can, and 16oz can!
Cheese Straws are DELICIOUS!!
I cannot be without them in my house
So good, could not stop eating.
Received as a gift. Love the buttery taste with a hint of spice. Better than home made. Each 16 oz can contains 4 individual pouches of the cheese straws, keeping the product crisp and fresh. I'm hooked and intend to purchase again.